That Woman / Sex Tragedy
That Woman / Sex Tragedy is riveting and intensely entertaining one-woman production that explores the reality of sex in an online world.
CLICK ON A THUMBNAIL TO VIEW LARGER IMAGE.
"Contemporary Western society is screwed up about sex. On the one hand, prudery reigns: simple conversations about sexuality are for many people still cringeably difficult, even among family and friends. On the other, a multi-billion dollar porn industry booms, often involving the exploitation of women and girls. David Fancy's new play, That Woman/Sex Tragedy, locates itself right at the heart of this contradiction. It's a funny, disturbing story about four people trying to negotiate their relationships to sex, pleasure, love, and procreation – and to each other. But it's also an angry indictment of how societal hypocrisy about sex can ruin lives. Savvy use of technology adds further depth and variation to Monica Dufault's already bravura multi-character performance. This is a timely, sophisticated, political entertainment that deserves a broad audience."
About This Play
This riveting and intensely entertaining production explores the reality of sex in an online world. Readily available porn and suburban sex toy parties serve as the backdrop for a complex exploration of identity and sexuality for three people: a Man, a Woman, and 'That' Woman. A central tragic event viewed through the eyes of these characters played in a bravura performance by Monica Dufault pushes the audience to an unavoidable and shocking conclusion.
General Technical Specs
An innovative scenographic, videographic and auditory response to the performance venue sets the stage for the visceral quality of That Woman/Sex Tragedy. The production requires limited scenic elements and technical support that is consistent with most theatre inventories. That Woman/Sex Tragedy will succeed in unique and original venues that are ripe for rediscovery as well as newer venues in need of exploration.
Original Cast and Creative
Monica Dufault
Monica Dufault is a talented and versa-tile actor who has performed with the Shaw Festival, Theatre Aquarius, the National Arts Centre, Manitoba Theatre Centre, Carousel Players, Lyndesfarne Theatre Projects and Theatre Beyond Words. She is a graduate of the National Theatre School of Canada, a member of the Canadian Actor's EquityAssociation, and has been nominated for a Dora Mavor Moore award for outstanding performance.
David Vivian
David Vivian is with Department of Dramatic Arts at Brock University. A graduate of NTSC with various the-atre, dance and film credits his recent productions include Ted Hughes' adaptation of Racine's "Phèdre" in the Sean O'Sullivan Theatre, David Fancy's "That Woman" and Niagara Dance's  "Verity" in the Sullivan Mahoney Theatre. Future projects include "Which Way to the Bastille" with artist Milutin Gubash at Rodman Hall (St. Catharines), and "Lion in the Streets" in the Sean O'Sullivan Theatre.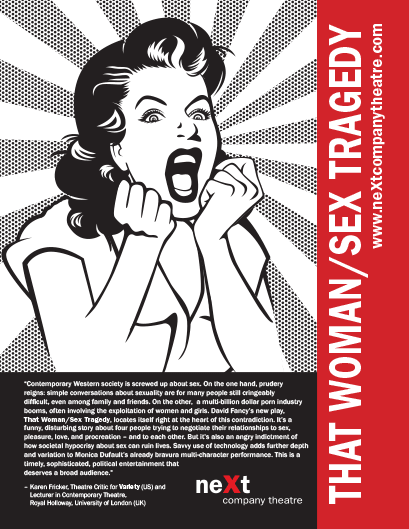 SUMMARY
PRODUCED BY: David Fancy 
WRITTEN BY: David Fancy
FEATURING: Monica Dufault
STAGE & LIGHTING DESIGN: David Vivian
LENGTH: 90 min., no intermission
FROM THE TEXT
Say for example the first one I ever watched, And this is a classic trope
a hackneyed theme where the
—they're in some kind of enormous weight room or something— the guy the stud has this huge,
and I mean huge, not just larger that normal
but huge, shall we say, 'member'

sorry to be rude, but I want you to understand what we're dealing with here and anyways, be honest with me,
you've seen it all, I don't need to dress it up, right?

It's a classic plot device, part of the fabula
And there are a million iterations of this one out there. So yes: the guy has a huge mondo cock
and you never see the base of his cock in the shot.
It's framed so that you see him holding the girth of it But never the base or where the shaft meets the body

He's usually black, the fellow.
and the cock, the um dick is actually inflatable, or something or perhaps carefully constructed out of rubber or plastic
but it's very much engineered to not look real
that's part of it
part of it
that it's fake
yes
something about black plastic makes it easier
or more comedic,
not sure, but you could think that through if you wanted

and the woman, she's usually some kind of
what they call in these instances a MILF
(and to be honest now if you don't know what that is you shouldn't be here) or perhaps she's a teen, with a well advertised 'tight' um you know what or something even perhaps quirky or strange like
a midget
or an obese—
no not an obese woman
that usually another story line

at any rate, the fellow, with the ostensibly enormous member
'goes at her' with it for a while
after of course the requisite moments of the introduction of this thing into her, ouch ouch rolling of the eyes, shouts, etc etc
he 'goes at her' for a while, usually a short while
so that we'll get to the punchline quickly

and, well this is rude i'm sorry, this is rude but but,
he comes in her
comes comes comes
with this huge contraption deep up inside her
and his close-up face is contorted
in a melodramatic fashion
there's usually some squelching sounds added in
or flatulence for good measure
fart fart fart juice juice juice all over the place
we see him grimace
and she of course is yelling bloody murder
but seeming to enjoy it all at the same time
and then it well, it just rushes out of her like a wave
all that cum
a tidal wave that soaks everything
and well it's it can be hilarious
he gets knocked off the bed
or gets some in his own eye
or tries to spit it out
it's so obviously not cum, the man's semen
but then the camera goes to her face
and half the time the girl is laughing along with things
as the man bounces around the cheap set
hosing, yes practically 'hosing' the place down
with this wave of manufactured sperm
spewing from this prosthetic third footless leg that's attached to him like it's some kind of Charlie Chaplin sex farce

and at this point they no longer worry about hiding the conceit the ruse
and you can see the straps holding this thing to the man
funniest of course is when the phallus is black and the fellow himself is white right? I mean: ripe for a postcolonial analysis certainly

you can really um read the culture through the the lens of these events
And of course these videos these vignettes all have amusing titles such as 'martin luther king sized dick'
and other kinds of clever wordplay
and some time there are horses involved

or they pretend that it's in a school or a hospital and well we all know that it isn't of course
but the pure fictionality of the events transpiring the spectacle

doesn't prevent us from amusing ourselves increases it actually
and and and frankly um feeling quite aroused in the face of these uh fictions
And what is that semen stuff made out of anyway sometimes they get the colour wrong
or it sticks to the walls in gooey patches
or they have this big idiotic black plastic dickcoming dozens of litres of spooge all over her face or a couple of them, the women, their faces wet little Lilliputians in the face of him, this thing

and she's laughing they're laughing
and they're all essentially having a fantastic time
like it's one big silly frat party
or some kids show full of stupid clowns
except this particular set of clowns are not wearing anything

I'm actually sounding quite ridiculous and very very um callous.
They suspect I'm probably just um
just in shock

from what I saw
the video, the most recent one, the last one, the final video yes
please please don't think much anything of it