Our Lady of Delicias
Niagara is a key zone of passage for many migrants and refugees, and a milieu deeply dependent on migrant labour for its economic prosperity. Our Lady of Delicias explores an aspect of these realities with a close-up focus on the experience of one agricultural migrant worker family across time and space.
CLICK ON A THUMBNAIL TO VIEW LARGER IMAGE.
Previous

Page

1

of 2

Next
"As the director of this piece, I enjoyed very much working with David as playwright. He was a great collaborator, and opening to making the kinds of adjustments to a script that a first production often requires."
About This Play
Who has the freedom to move or to stay in one place? Who is forced to be on the road or is constrained to a location against their will? Tens of millions of people globally are currently in forced migration for safety or for work, while tens of millions more are restricted to places that are un-beneficial to them. Niagara is a key zone of passage for many migrants and refugees, and a milieu deeply dependent on migrant labour for its economic prosperity.
Our Lady of Delicias explores an aspect of these realities with a close-up focus on the experience of one agricultural migrant worker family. The play also engages a wide-angle perspective on much larger historical and cosmic forces that intersect with this one story. Theatre is an ideal medium for the compression and release of time, space, movement, language, memory, and imagination necessary to begin to make sense of a complex reality like migration. This project is just one in a series of theatre and performance projects focusing on migrant worker realities I've had the opportunity to work on over the past ten years. Many thanks to the numerous collaborators from whom I've learned much on the way.
Original Cast
Camila Diaz-Varela (Delores)
Camila Diaz-Varela is a first-generation Mexican-Canadian theatre maker and musician based in Taronto, on Dish with One Spoon wampum belt treaty territory.  She is a graduate of Sheridan College's Music Theatre Performance program, and performs both for theatre and as an independent singer-songwriter. Camila is so honoured to be working with this team at Essential Collective Theatre to bring Our Lady to her first audience. Upcoming projects include composing music for BOIBAND the Boyband in Rhubarb Festival 2018 and performing as Amal in the world premiere of the Silver Arrow: The Untold Story of Robin Hood with the CitadelTheatre.
Carla Melo (Atlacoya)
Carla Melo is an actor, director, researcher, part-time professor, and artistic director of CorpOLuz Theatre, based in Toronto. Originally from Brazil, Carla spent her adult life in California, where she co-founded and performed in Corpus Delicti, a butoh-inspired ensemble focused on developing socially-engaged site-specific performances. Highlights of her experience since arriving in Canada (2014), have been: Directing a piece listed among the top SummerWorks shows of 2015 and performing in the award winning production of Blood Weddings (2017, Modern Times Stage Company). With the support of TAC and OAC, she is currently developing a new devised work with her company.
Josée Young (Jennifer)
Josée is delighted to be a part of Lady of Delicias. She was last in St. Catharines, participating in ETC's workshop of The Welland Canal Play. Other theatre credits include: An Ideal Husband, Canada 300 National Tour (Watermark Theatre); Hipcheck the Musical (Torrrent Productions); Knickers (Globus Theatre); As You Like It, A Midsummer Night Dream, Twelfth Night (Acropolis Theatre); Capital Quiz/ Le défi de la capitale (NCC). TV/Film: Rosie (Assini Productions); Workin' Moms (CBC); Tormented (Narrow Edge Productions); Cancer Can't Dance Like This (Bravo). Josée is a graduate of the University of Windsor (BFA Acting). Her voice can be heard on more than 150 voice overs in both French and English. Many thanks to Monica, the creative team at ETC and her very supportive family and friends.
Juan Carlos Vells (Rangel) | MORE ›
Juan Carlos Velis has worked across Canada and the US. including The Festival of Classics, The Saidye Bronfman, The Kravis Center, Tarragon, Roseneath, Coral Springs Theatre, Green Thumb, Passe Muraille, The Grand Theatre and Soulpepper. Selected Film and TV includes Atom Egoyan "Remember" opposite Christopher Plummer, "Incorporated" (CBS), Damien (A&E), "Pay The Ghost" with Nicolas Cage, Alexander Payne's "Downsizing" opposite Matt Damon and most recently "Flint" directed by Bruce Beresford. His films "Desire" and "Giving Grace" are currently in post. Juan Carlos was Artistic Director of Acropolis Theatre which produced the annual Shakespeare on the Thames Theatre Festival in London. I dedicate this to all migrant workers simply searching for a better life.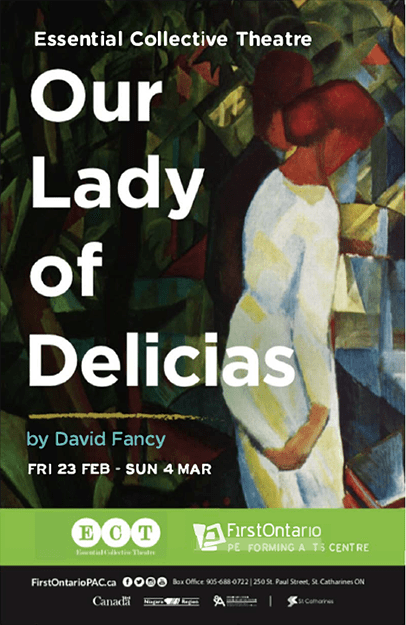 SUMMARY
PRODUCED BY: Essential Collective Theatre 
WRITTEN BY: David Fancy
DIRECTED BY: Monica Dufault
FEATURING: Camila Diaz-Varela, Carla Melo, Josée Young, Juan Carols Vells
STAGE MANAGER: Carolyn Mackenzie
TECHNICAL DIRECTOR: Thomas Hurst
APPRENTICE STAGE MANAGER: Nicole James
SET, LIGHTING & PROJECTION DESIGN: James McCoy
COSTUME DESIGN: Joanne Pacinda
SOUND DESIGN: Ethan Rising


FROM THE TEXT
Scene 1. In a Niagara vineyard under an impossibly beautiful night sky
 
ATLACOYA, standing with arms spread wide, addresses the audience
 
ATLACOYA
I am the second coming of Christ
 
Waits to gauge response.
 
What? No? You think I'm shitting you right?
 
I have been known to shit people.
 
Okay, how about this, then:
 
Strikes a different and triumphant pose
 
I am Atlacoya: the Aztec Goddess of Drought!
 
Holds then drops her pose
 
More believable, right?
Why though?
Come on: 'Aztec Goddess of Drought'!?
 
Because you know nothing about me?
because I seemto be a woman?
or maybe 'cause my skin is an exotic nut brown?
 
Personally, I think Jesus was a dark-skinned lesbian…
Nowthere'sa line that'll get you frisked at the border: ha
 
Resumes her pose, describes herself in third person
 
Atlacoya: Aztec Goddess of drought:
murderer of rivers, killer of crops, harbinger of fire
connoisseur of fine Mexican cuisine; connoisseuse?
disguised here as a Christian saint to guarantee her safe passage north
And yet—she says with a touch of divine melodrama—
My time has almost come:
soon the entire world will know my terrible dry truth!
 
Drops her pose
 
And because you're sitting there, quietly believingme:
Ilikeyou
 
You're ready to listen
ready to have faith
and boy! do I everlike that in a person
 
You really sincerely believe that somehow it will all work out
that some way somehow you won't finish
curled up, in pain
at the end of a dusty road in the desert
surrounded by scrub brush, unable to move
wondering, ridiculously, if you remembered to lock the door when you left the house for that last and final time, chased away by a surprisingly hot and evil wind
 
Yes!—your faith, fervent belief, your delicious suspension of disbelief—
I soak it up!
It's like honey to a bear, or shit to a fly
Yes: youare my one-way ticket to continued life
And FYI: there's no turning back from me, ever!
 
Just like Rangel here:
Rangel the poet, Rangel the carpenter, Rangel with his awesome thirst for life!
like most of the poor suckers around the city of Delicias
my last real follower, Rangel
has been forced to flee north to look for work: wayup north to stinky old Gringostan
my one true believer, my love, my mule
 
Rangel / Rangel!