Khalida
Khalida is a dynamic, poetic and politically relevant production featuring the confessions and testimony of Said, a man in flight from a conflict zone in the Middle East who has found himself in an oil producing country in the economic North. Drawing resonances from the ongoing Arab spring, the play provides an opportunity to explore cultural alienation and gender diversity in contemporary multicultural society.
CLICK ON A THUMBNAIL TO VIEW LARGER IMAGE.
"David Fancy's imaginative script, a work filled with surrealism, brutality and irony… solo actor Jason Jazrawy gives a powerhouse performance (in Khalida). The design elements and sound add immeasurably to the production and the often striking text."
Awards & Honours
Khalida received the 2008 Enbridge PlayRites Award presented to an emerging playwright by Alberta Theatre Projects.
The text was chosen one of the Outstanding New Plays at the 2008 Summerworks Festival.
It received 4 out of 4 possible N's (NNNN) in its Now Magazine review.
The play was one of three texts featured at the 2009 International Director's Laboratory at the Lincoln Centre in New York City. 
General Technical Specs
An innovative scenographic, videographic and auditory response to the performance venue sets the stage for the visceral quality of Khalida.
The production requires limited scenic elements and technical support that is consistent with most theatre inventories.
Khalida will succeed in unique and original venues that are ripe for rediscovery as well as newer venues in need of exploration.
Original Cast and Creative
Jason Jazrawy
A graduate of York University's acting program, Jason Jazrawy is based in Toronto. Selected theatre credits include Treasure Island (Theatre New Brunswick), The Melville Boys (Red Barn Theatre), Khalida (Summerworks – Outstanding Performance, NOW Magazine), Conservatives in Love (New Stages of Peterborough), Helen's Necklace (Great Canadian Theatre Co.), Orpheus Descending (Manitoba Theatre Centre and Royal Alexandra Theatre), Much Ado About Nothing (Theatre By The Bay), Remnants (Tarragon Theatre), Merlin  (Lorraine Kimsa Theatre for Young People), Peter Pan and Six Characters in Search of an Author (Shaw Festival). 
Vojin Vasovic
Vojin Vasovic is a theatre and film director. He holds an MA from the Graduate Centre for Study of Drama at the University of Toronto and a Bachelor in TV l& Film Directing from The Academy of Arts, Belgrade, Serbia. Vojin has been working in film and experimental theatre since 2002. He is the recipient of several awards for lighting design and direction in theatre. His award-winning short film Breathtaking and animated film 5 Minutes have been screened at international film festivals. Vojin has just returned from the Berlinale Film Festival 2012 in Berlin, Germany and his Toronto based theatre company Ars Mechanica is touring an intermedial performance Show And Tell Alexander Bell based on the life of the great Canadian scientist.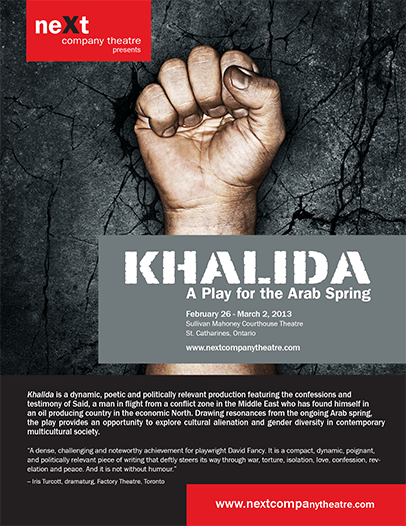 SUMMARY
PRODUCED BY: David Fancy & Lisa Matheson
WRITTEN BY: David Fancy
FEATURING: Jason Jazrawy
STAGE & LIGHTING DESIGN: Vojin Vasovic Anticipated Production
LENGTH: 90 min., no intermission
FROM THE TEXT
What if…
What if before every war,
before every coup…
What if long before any kind of assault,
the generals of each army
—from both sides—
were required to go ahead of their troops
into the theatre of battle,
weeks ahead of their troops,
dressed in full ceremonial costume,
and once there
go door to door
and warn every father, every mother, every daughter and son,
warning them gently and but firmly
(and with tremendous precision),
of what the future promised
for the ones they loved.